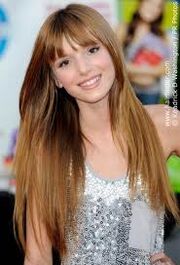 Maggie Smith is a 16 year old teenager who is best friends with 
Jenni Raquel
. Maggie's nick name is Maggs. She is roleplayed by Trixie19.
Biography
Maggie was born August 31. She has traveled the world. Maggie loves shopping in malls and playing video games. She does gymnastics and competes. She is very talkative and nice.
Early Life
As a long little girl age 5 she travled the world. First she went to Paris, France. "They have the best food ever!!" Maggie says. Next they went to Rome, Ittaly. "Best pasta!" Maggie says. Japan was next. Maggie was in Toyko, Japan. Next at the age of 6 she visited Egypt. She said "We are not going to go any where else until I see all the pyramids!!!!!" So that's what they did walked through every single pyramid. Then they went snow boarding in Canada at age 9.
Appearance
Maggie has long strawberry blonde hair. A shining smile and perfect pink cheeks. She has a great sense of style. She has her ears are pierced and she wears earings all the time.
Alliances
Enemies
Schedule
Gallery