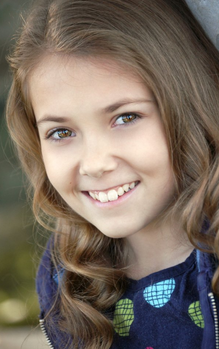 Carly Denman is an 11-year-old prodigy. Her talent is her sense of humor. Carly has preformed on T.V., for celebrities, and more. Her roleplayer is Abbyabbymc.
Biography
Carly Denman is a comedian. She was born on April 1st, 2000. (No joke). She had always wanted to be a lawyer, but usually without notice she would crack a joke. She then decided she would be a comedian, as her jokes had told her she was not meant to be a lawyer. Carly then preformed in comedy clubs and night clubs. By age 7, she had been on T.V.. Carly also enjoys sports. Carly makes friends quickly and easily. Carly is also a very good actress but it is not considered her talent. Her favorite subject is science. (I will eat anybody who calls me Carl.)
Early Life
Since Carly was about 5, she wanted to be a lawyer like her dad. However, she ended up cracking random jokes whenever the time was right. She decided she would be a comedian. Carly's dad, however, did not approve. He wanted her to become a fine lawyer like himself. Carly had become discovered by talent scouts, and she was sent to preform at popular clubs and famous T.V. shows by the age of 7. Carly now is in the A.N.T. Farm, cracking jokes.
Appearance
Carly is very pretty. She has light brown hair with hazel eyes. She has natural curly hair which sometimes is straightened.
Alliances
Enemies
Schedule
Carly's Schedule

| Time | Monday | Tuesday | Wednesday | Thursday | Friday |
| --- | --- | --- | --- | --- | --- |
| 9:45-10:00 | A.N.T. Room | A.N.T. Room | A.N.T. Room | A.N.T. Room | A.N.T. Room |
| 10:00-10:45 | Drama | L/A | Advanced Science | S.S. | Technology |
| 10:45-11:00 | L/A | Music | Free Time | Advanced Science | P.E. |
| 11:00-12:00 | Advanced Science | Cooking | L/A | Music | Drama |
| 12:00-1:00 | Lunch | Lunch | Lunch | Lunch | Lunch |
| 1:00-1:45 | Cooking | Art | P.E. | Free Time | Math |
| 1:45-2:00 | S.S. | Drama | Math | P.E. | Music |
| 2:00-3:00 | A.N.T. Room | A.N.T. Room | A.N.T. Room | A.N.T. Room | A.N.T. Room |
Gallery